30.05.2016
|
Company, Exhibitions and Machine Tools
Romi presents its solutions for manufacturing processes at BIEMH, the main Spanish Mechanic Industry tradeshow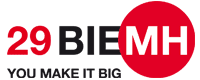 The Company will be alongside the world's biggest machine tool manufacturers presenting its technology for different segments.
Santa Barbara d'Oeste, April 2016 – Romi, leader in the Brazilian machinery and equipment industry, with 85 years of history and over 150 thousand machines installed worldwide, will participate in the 29th edition of the BIEMH, biannual machine tools tradesow, which takes place from May 30 to June 4, 2016, in Bilbao, Spain.
The Spanish industry has shown clear signs of recovery with strong growth trend in the coming periods. Prepared to contribute to this shift, Romi participates in another edition of BIEMH with its excellent performance and reliability machines, which are also efficient and versatile, being able to work in medium and high production environments, as well as in tooling, offering diverse and innovative machining solutions. They are: a ROMI CENTUR 35D CNC lathe, a ROMI GL 280M turning center, a ROMI D 1000 machining center with Fanuc CNC and a ROMI DCM 620 5X 5-axis machining center.
To Luiz Cassiano Rosolen, Romi's CEO, to participate in this event reaffirms the Company's commitment to constant innovation: "The Spanish customers, which does not fail to attend this fair, want to see quality, robustness and innovation. Our products combine these features to a close after-sales monitoring, reinforcing our commitment to the performance of the machine and the resulting customer satisfaction. Spain is an important market for Romi with traditional mechanical industry, for which we have excellent machining solutions so that our customers can maximize the return on their invested capital.". Besides having a subsidiary in the country, located near Barcelona, Romi has the support of a local dealer, Mecatool, for sales of machines, parts and services in Spain.
Exporting capital goods since 1944, Romi has experience in supplying machines worldwide and managing sales and services through its subsidiaries located also in the UK, Germany, France, Italy, USA and Mexico. Romi is an established player with a reputation for innovation and with thousands of machines installed around the world.