Certificates
Quality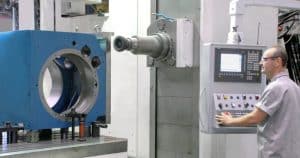 Our Quality Management System is certified since 1994, according standard ISO 9001, currently on revision 2015, comprising the following items.
Project, development, production, sales and related services for machine tools and plastic processing machines.

Manufacturing and sales of cast iron, machined parts and machining services.
Click here to download Romi Certificate – ISO 9001
Since September, 2008, we have been certified in accordance with the Automotive Quality Management System, currently with the IATF 16949: 2016 certificate, for the following scope:
Manufacture of Casting and Machined Iron Parts
Click here to download Romi Certificate – IATF 16949 – Casting and Machined Iron Parts
---
Environment

Our Environmental Management System is certificated since 2005, according standard ISO 14001, currently on revision 2015.
We are aware of our responsibility in relation to environment and we are engaged in sustainable development, we perform regular investment in organization, infrastructure and technologies, aiming to prevent pollution in all aspects related to our businesses.
Click here to download Romi Certificate – ISO 14001
---
Integrated policy for quality, environment and occupational health and safety
ROMI is compromised with:
Customer Focus
To ensure customers satisfaction developing and supplying products and services with quality which meets their requirements;
Compliance to Standards and Legislation
To meet the requirements of Standards and Legislation applied to Quality, Environment and Occupational Safety and Health policies;
People Involvement
To motivate, make aware, develop and qualify its workers in order to have them able to properly and efficiently perform their activities;
Promote and support the collaborators consultation and participation in integrated management system related matters.
Prevention
Protect the environment, prevent pollution and reduce environmental impacts in processes, products and services;
Prevent accidents and health problems related to work, eliminating dangers and reducing risks through safe and healthy polices and work conditions towards our collaborators, service providers and visitors as a commitment.
Continuous improvement
To continuously improve the efficacy of integrated management system, its products, services, processes, environment performance and occupational health and safety.
This policy should assure a consistent return to the capital invested by the shareholders.